Insulin needles, syringes for diabetics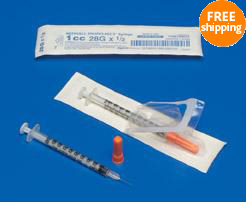 East Coast Medical Supply (ECMS) offers a large selection of top quality products for both hospitals and medical offices as well as individuals. Discount diabetic supplies are available from top makers such as Nipro and Monoject. Insulin needles and wholesale syringes come in a variety of sizes to meet the needs of a wide audience. We sell syringes, needles, syringes with needles and insulin needles. We understand the importance of providing top quality products at competitive prices, and strive to offer both to individuals and medical personnel. If you are looking for discount diabetic supplies or medical supplies for your hospital, lab, or office, check out our selection and prices. You will find just about everything needed in our store. If you don't see what you were looking for just let us know. We can usually find whatever item you need and get it to you quickly. We are adding new products on a regular basis, so let us know what you need.
Quality discount diabetic supplies

We carry only top quality products in our store. From needles and syringes to alcohol wipes and glucose meters and test strips, you will find our selection exceptional. We offer free shipping on orders over $100 and process and ship orders within one to two business days. You can rest assured that your supplies will arrive in a timely fashion. Shop from the comfort of your own home and know that you are getting great prices and service. If you have any questions you can reach us via email and we generally are able to respond within twenty-four hours. Come and discover why we have become a trusted local name in the industry.