Insulin needle and syringe sale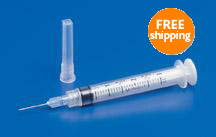 Every day you will find savings on hundreds of syringe supplies at East Coast Medical Supply. Check out our daily specials which include needle and syringe sale items. Some of our best sellers include Nipro and Monoject medical syringes and needles. We are a medical supplies store catering to hospitals, healthcare professionals, research labs and the general public in need of medical products. We have become a trusted medical supplies store for our local customers in the last year. We strive to provide everything from medical syringes to discount diabetic supplies. Daily specials often include syringe sale items at discounted prices.
Online medical supplies store
Our selection, prices and customer service make us stand out among others. Shopping for products is easy and secure in our store. You can browse our products by maker or by item, and if we don't carry something you need, just let us know. We are always adding new products to our offerings, and can get most anything that you need. If you are looking for diabetic supplies, we carry syringes, insulin needles, alcohol prep wipes, glucose meters, test strips and more. You will find we carry a huge selection of sizes for needles.
Medical syringes at great prices
Needing a new shipment of over the counter medications or supplements? We carry a large variety of vitamins and general medications at prices lower than most retail stores. Check out our cost savings to you and then look at our free shipping on purchases over $100. Browse our products and discover how easy re-stocking and ordering can be with us. Orders are processed and shipped out in a timely fashion; we know how important these items are to our clients. Give us a try and see why so many have turned to us.