Diabetic syringe supplies in bulk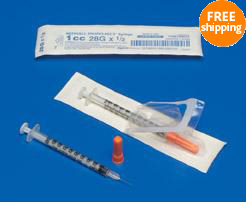 East Coast Medical Supply (ECMS) provides top quality medical supplies to hospitals, medical offices and vets around the country. We offer a full line of safety syringe supplies for diabetics, including needles, insulin syringes and more. We carry the brand names you know and trust such as Monoject, Medline, Nipro and more. We also offer a full line of medical supplies:
Cleaners
Gauze
Bandages
Instruments
Disposable protective garments
Vitamins
Nutrients
If you cannot find an item you are looking for in our store, please give us a call. We are usually able to get whatever it is that you need.
Monoject insulin syringes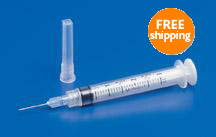 Diabetic patients can find all the supplies they need in our medical supply store. We carry a large selection of Monoject insulin syringes, standard syringes with Luberlock tip, and many more. Our syringe supplies and needles come in a wide variety of sizes. Some of our most popular include 1cc 30G x5/16" insulin syringes, and Nipro standard 3 cc syringes with needle. We also carry alcohol prep wipes, gauze, bandages, and glucose monitoring supplies including glucose meters, test strips, lancets and monitoring kits. We know how important your supplies are for your daily health, and we process orders promptly. Our products are shipped within 1-2 business days and our prices are competitive. You can contact us with any questions or if you cannot find the items you need on our site. We strive to respond to emails within twenty-four hours. We make it easy to find and purchase medical items in bulk.