Quality, selection of wholesale syringes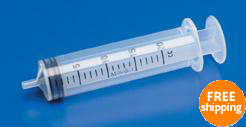 We offer top quality supplies at discount prices for medical professionals and individuals. East Coast Medical Supply is a trusted local name for providing products at prices similar to wholesale. Syringes and needles from Nipro, Monoject and Medline are available at a great price. Not all medical supplies stores carry the selection of needle and syringe sizes that we do. We stock a variety of needle sizes to meet the needs of our clients. Our wholesale syringes, diabetic supplies and medical product line will make us your new supplier of medical products. You will find that our prices and service exceed other medical supplies stores. We pride ourselves on quality, customer service and competitive prices. Take a look around and discover why our selection and product line make us a top choice.
Online medical supplies stores
Our full line of supplies includes, but is not limited to:
Cleaners
Bandages
Instruments
Nutrients
Vitamins
Glucose Monitoring Tools
Over the counter drugs
We supply hospitals, medical offices and labs with the equipment and products needed on a daily basis. You will find that we are able to offer quick service and quality products. Our product line is constantly expanding. If you are looking for a particular item not yet listed in our store let us know. We can usually find it and get it to you quickly. Orders are processed and shipped within one to two business days. Free shipping is offered on purchases over $100. We are adding products on a regular basis. We also are pleased to offer our product line of diabetic supplies to the general public. We carry a wide range of
discount diabetic supplies
for individuals and medical professionals. We also carry a large selection of over the counter drugs and nutrients that are priced at a discount. Find out why so many have made ECMS their primary supplier for quality products.